Banking sector in good health: top officials Go back »
2012-11-12 | All chapters
Banks are also seeking opportunities to further expand business overseas as the yuan increasingly becomes a global currency.
"The banking system's risk is under control and the non-performing loan ratio, 0.97 percent, is low," Shang Fulin, chairman of the China Banking Regulatory Commission, said at a news conference on Sunday during the 18th National Congress of the Communist Party of China.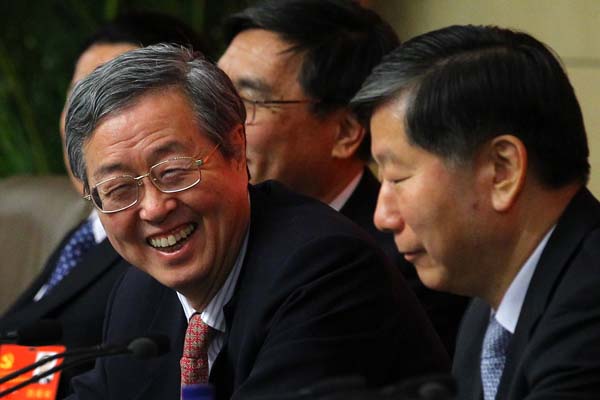 People's Bank of China Governor Zhou Xiaochuan (center) responds to a reporter's question at the media center of the 18th National Congress of Communist Party of China on Sunday. [Zou Hong/China Daily]
Bank lending is not concentrated on any high-risk investment projects, and most of the loans have mortgage guarantees, Shang said.
Sound earnings and the prevention of risk is the basis for domestic banks, he said.
Total debts will rise from 191 percent of GDP at the end of 2011 to 206 percent by the end of this year, according to a report by Standard Chartered Bank.
The report also said that the country will have public debt at 58 percent of GDP by the end of 2012.
Consumer debt will stand at 19 percent of GDP, and corporate debt at 128 percent.
Zhou Xiaochuan, governor of the People's Bank of China, urged alertness to potential risks, especially shadow banking, as banks diversify financial products and services.
Shadow banking, as the name suggests, mainly refers to credit access outside the regular system. In China, it usually involves wealth management products, underground finance and off-balance-sheet lending.
"Shadow banking is inevitable when banks are developing their business," Zhou said. "But there are fewer problems here than the shadow banking sector in some developed countries that have been hit by the global financial crisis."
In an article for China Daily published in October, Xiao Gang, chairman of Bank of China, said that shadow banking was like a Ponzi scheme.
A Ponzi scheme is a fraudulent investment operation that pays returns to investors from their own money or the money paid by subsequent investors.
Chinese banks are also priming themselves to steadily expand international business as the yuan becomes more of a global currency.
Industrial and Commercial Bank of China plans to increase the number of international branches as it focuses on mergers and acquisitions to become a multinational group, Jiang Jianqing, the bank's chairman said. The lender is the world's largest in terms of market value.
"The growth in the overseas market is even faster than domestic business," Jiang said. The bank, he said, has earned $864 million from its overseas operations in the first half of this year.
As Chinese banks expand overseas, the central bank is pushing direct transactions between the yuan and other currencies to facilitate cross-border trade and investment.
The Reserve Bank of Australia is in currency talks with the central bank to start direct trade between the Australia dollar and the yuan, "which is a good thing and the two central banks will fully support it", Zhou said.
According to the Society for Worldwide Interbank Financial Telecommunication, the international payment platform, the number of countries and regions processing yuan payments grew to 91 in June from 65 a year earlier, while institutions processing such payments increased to 983 from 617 during the same period.
Hong Kong contributed around 80 percent of yuan payments in the first eight months of 2012.
An HSBC survey showed that 77 percent of Chinese companies expected one-third of all Chinese trade to be conducted in yuan by 2015, and 30 percent plan to use the currency for investment-related purposes in the next 12 months.
Source: China Daily